VOLODOMYR DUBOVYK, Ph.D.
Associate Professor in the Department of International
Relations
in the Institute of Social Sciences
of Odesa Mechnikov National University
Friday March 28, 2014
4:15 – 5:30 p.m.
Clark Hall – Room 309
11130 Bellflower Road
CLEVELAND, OHIO 44106
This forum is free and open to the public.
When President Victor Yanukovych fled from Kiev on February 22, that set off a chain of events with extremely uncertain consequences. Russia has taken over Crimea; Yanukovych says he has not abdicated; he and the Russian government agree that the new Ukrainian government is illegitimate; western nations are condemning Russia for annexing Crimea; and observers wonder whether the parts of Ukraine that are most tied to Russia by population and economics might be the basis for either civil war in Ukraine or further military action by Russia.
While commentators speculate about Putin and fret about reactions from the Europeans and U.S., we do not hear much about the facts on the ground in the Ukraine. How serious are the separatist pressures in the south and east of the country? What are the prospects for the new government? And how might the situation within Ukraine interact with the international pressures and politics?
Professor Dubovyk has offered to take some time from a personal visit to Cleveland to share his knowledge, and so we are very grateful to be able to offer this last-minute opportunity! Please join us for insight behind the headlines.
Light refreshments will be provided. This program is sponsored by the CWRU Center for Policy Studies.
About Our Guest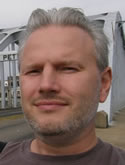 Volodomyr Dubovyk is Associate Professor in the Department of International Relations in the Institute of Social Sciences of Odesa Mechnikov National University, where he also directs the Center for International Studies. His research and teaching focus on Ukraine and international relations. He has been a visiting scholar twice at the Kennan Institute of the Woodrow Wilson International Center for Scholars in Washington D.C.; a Visiting Fellow with the Center for International and Security Studies of the University of Maryland, and Visiting Scholar at the Henry M. Jackson School of International Studies of the University of Washington.