The Protests in Hong Kong: Who?
Why? What's Next?

a discussion with
Paul Schroeder, Timothy Webster, &
Ho Ching Cheung
Wednesday October 29, 2014
4:15-5:45 p.m.
Clark Hall, Room 309
"Disobey and Grasp Your Destiny." So read many banners on September 22, as the Occupy Central with Love and Peace movement began protests designed to shut down parts of Hong Kong's central business district as a way to demand democratic elections for Hong Kong's chief executive in 2017. But what kind of future may result? How wide and deep is the protesters' support? What explains both the protests and the Chinese government's reaction? How do the protests, and China's reaction, fit into the historic patterns of Chinese politics?
Three expert members of our campus community will lead discussion of these questions.
Ho Ching Cheung will give his perspective as a student from Hong Kong who has been studying the events. Paul Schroeder, Visiting Assistant Professor of Political Science, has studied China for three decades. Before coming to CWRU, Paul worked for the National Committee on U.S. China Relations and managed a firm advising American companies on doing business in China. Timothy Webster, Assistant Professor of Law and Director of East Asian Legal Studies, has studied China's policymaking on issues including human rights, trade policy, and employment discrimination, and teaches courses about law and the legal system in China.
About Our Guests

Paul Schroeder is a visiting assistant profesor of political science at Case Western Reserve University. He earned his Ph.D. from Ohio State in Chinese Politics in 1987, writing his dissertation on regional power in the Chinese political system. Before embarking on his Ph.D. studies, he was a journalist covering police, city, county and state government for several Ohio newspapers. While doing his dissertation research, Paul represented the State of Ohio Department of Development in Wuhan, China. He then joined the staff of the National Committee on U.S. ― China Relations in New York, managing programs in law and economics.
From 1995-2007, Dr. Schroeder was managing director of East-West Trade Development, Ltd., a firm that assisted American businesses with international trade opportunities, especially with China. He also co-founded Families of the Fallen for Change, a lobby group advocating a political solution to the Iraq war, and as part of that has worked with senior members of Congress to develop policy alternatives. Paul has taught a series of courses at CWRU in recent years, including SAGES courses on China and the Environment; POSC 272, Introduction to International Relations; POSC 370D on The Peoples Republic of China; POSC 370C, The United States and Asia; and POSC 374, Politics of Development in the Global South.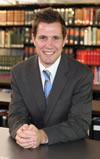 Tim Webster is Assistant Professor of Law and Director of East Asian Legal Studies at Case Western Reserve University. His scholarship addresses the intersections of international law and the domestic legal systems of East Asia, appearing most recently in the Columbia, Michigan, and Penn journals of international law. He has presented his research in Mandarin and Japanese to audiences around the world. In January, 2014, he testified before Congress on China's implementation of WTO rulings.
Professor Webster started his academic career at Yale Law School, and also worked at its China Law Center, designing legal reform projects with public interest lawyers, academics and judges in the PRC. He has held visiting positions at National Taiwan University and Zhejiang University; and received research grants from the Asia Foundation and the Ministry of Foreign Affairs, Republic of China. Previously, he practiced international dispute resolution in the New York and Tokyo offices of Morrison Foerster, and clerked for Judge Joseph Tauro, of the United States District Court, in Boston.